Andrew Joseph Kyle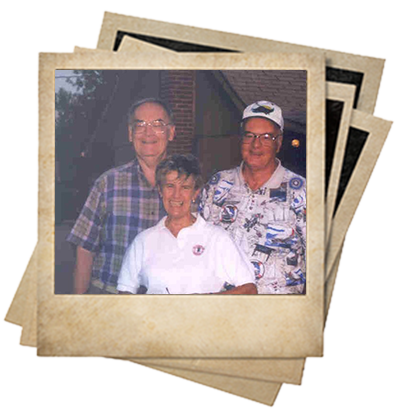 (born October 21, 1928 in Coboconk, Ontario)
BIOGRAPHY:
Andrew Joseph Kyle was born to Norval Kyle and Hazel Wilhelmina Victoria Sharpe on October 21, 1928 in Coboconk, Ontario. He was the 1st of 3 children.
His siblings include:
Mary Elizabeth Kyle (Stevens), born August 7, 1931, in Peterborough, Ontario.
John (Jack) Alexander Kyle, born May 23, 1933, in Picton, Ontario.
With his father, Norval ("Kylie") Webster Kyle, in the banking business, they moved frequently. Andy went to public school in Midland and high school in Blyth, Ontario.
In 1946 he moved to Toronto for his first job that was with General Electric. Later in the year he joined the Northern Electric Company and by 1952 was an installation supervisor.
During the 50s and 60s he continued to advance in the company working on newly introduced "Cross Bar" equipment and then "Direct Dial".
During this period he met and married Edith ("Edie") Schwager. Edie was born in Prince Albert, Saskatchewan on 12 May 1930.
Their three children, Barb, Jim and Gerry were born during the period 1955 to 1960. Andy worked at Chatham, Ontario, Toronto, Regina, Calgary and London, Ontario.
In 1963 and at age 34 he was promoted to District Supervisor of Western Canada.
In 1966 Andy moved from the technical side in Northern Electric Company to sales and became Sales Manager for Saskatchewan.
In 1969 the family moved to Montreal where Andy was the Switching Sales Manager for the United States.
In 1971 and with the company now called Northern Telecom, Andy set up the Boston sales office and became Sales Manager for the Northeast United States.
Other US postings included Elmsford, NY, Brewster, NY and Pittsburgh, PA.
In 1983 Andy retired at age 55 with 37 years service with the company. In 1993 Andy and Edie sold their home in Pittsburgh and moved to Sarasota, Florida where they commenced their life style of living six months in Florida and six months at their summer home on Golden Lake southwest of Pembroke, Ontario along Highway 60.
More about Andy and Edie's 3 children:
Barbara Ann Kyle (King), born September 9, 1955 in Chatham, Ontario, now married to Darrell King.
James (Jim) Andrew Kyle, born December 16, 1956 in Toronto, Ontario, now married to Laura Beckwith.
Gerald (Gerry) Paul Kyle, born November 20, 1960 in Toronto, Ontario, now divorced from Sandra Dzera.