Norval Webster Kyle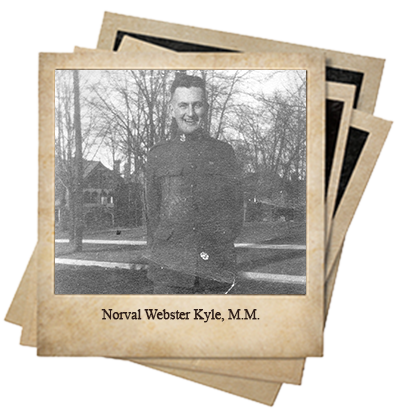 (Nov 30, 1895 – Feb 7, 1953)
BIOGRAPHY:
Norval Webster Kyle was born to Joseph Kyle and Mary Elizabeth Aikins on Nov 30, 1895 in Paisley, Ontario. His dad Joseph Kyle was from Norval, Ontario and his dad's best friend was Dr. Samuel Webster, thus he was named after his dad's home town and best friend's surname.
On February 14, 1916 while working for the Standard Bank (know known as CIBC), Norval joined the 61st Battalion in Winnipeg, Manitoba. By April 1, 1916 they were on the S.S. Olympia bound for Shorncliffe, England where he was assigned to the 44th Battalion. For services as a Battalion Runner between May 6-11, 1917 he was awarded the Military Medal for Bravery (M.M.). He received this medal due to his show of great courage both in guiding parties to an advanced post held by the Allies and in delivering messages under heavy shell fire.
On November 6th, 1917, he was seriously wounded in Passchendaele and sent by Hospital Ship to Epson, England.
By February 1918, he was transferred on loan to the #1 C.C.D. (Canadian Command Depot) at Shorncliffe and discharged in London, Ontario January 27th, 1919. He remained a banker with the Canadian Imperial Bank of Commerce and died in Chatham, Ontario on February 7, 1953.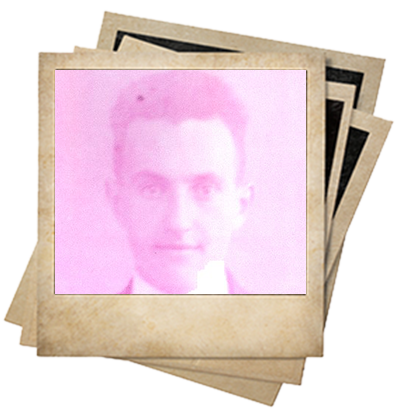 On June 25, 1927, he married Hazel Wilhelmina Victoria Sharpe, daughter of Mr. and Mrs. Andrew Sharpe of Orono, Ontario. The wedding took place in Toronto, Ontario.
He and his wife had 3 children:
Andrew Joseph Kyle, born October 21, 1928
Mary Elizabeth Kyle Stevens, born August 7, 1931
John (Jack) Alexander Kyle, born May 23, 1933
BASEBALL:
On Saturday afternoon [June 15, 1918 ?] a Canadian Command Depot and an Aero Squadron (American) met in a baseball match on the Hythe Corporation Field, kindly lent by Mr Uden.
The Mayor (Councillor W.R. Cobay J.P.) opened the game by pitching the first ball. There were some 2,000 spectators. The contest proved very interesting until the eighth innings, when the Americans led by 3 to 2. Then owing to an error on the part of the American "Southpaw" pitcher and a bad peg to the third by the catcher, the "fireworks" started and "when the smoke had cleared away" the Canadians had added four more runs to their score. The Aero team came right back in to this half of the eighth and through good hitting and base running managed to secure two more runs.
This caused great excitement as the "position" looked fair for the Aeros with one out and two on base, but by a fast double play on an infield hit, the "Canucks" retired the side and prevented further scoring. In the ninth the Canadians managed (owing to some sloppy fielding on the part of the Yanks), to net two more runs, which practically put "the game on ice" and they prevented further scoring in the Americans half although they managed to get two men on base, but the next two batters struck out ending the game in favour of the Cannucks.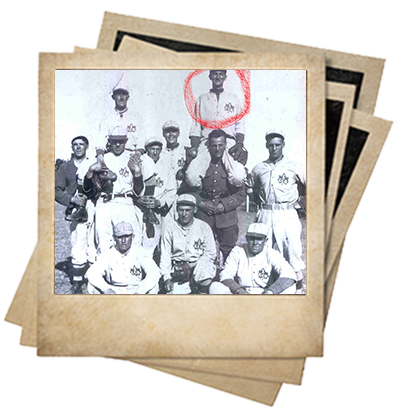 Score: Canadians 8 runs; Americans 5 runs.
BANK ROBBERY:
The Canadian Imperial Bank of Commerce congratulated Mr. Norval Webster Kyle, manager of the Wellington, Ontario branch, upon his courageous action in routing the two masked bandits who attempted to rob his branch on October 11, 1933.
The ultimate outcome of the attempted robbery was a happy solution for all concerned. The bank property remained intact and of special importance was the fact that there were no fatalities.
Norval was presented with a handsome gold watch, engraved as follows:
"Presented to Norval W. Kyle by The Canadian Imperial Bank of Commerce in recognition of courageous service, October 11, 1933"
The attempted hold-up consisted of two armed robbers. Norval himself was unarmed.
KYLIE'S MILITARY RESUME:
Orme Sharpe (Norval Kyle's brother-in-law) told the following story at his Orangeville home on 13 Jun 1976. And it's pretty obvious from the text that Orme spent some time preparing his thoughts for the interview. When words are in parenthesis, they are a best guess as to what Orme said on the tape.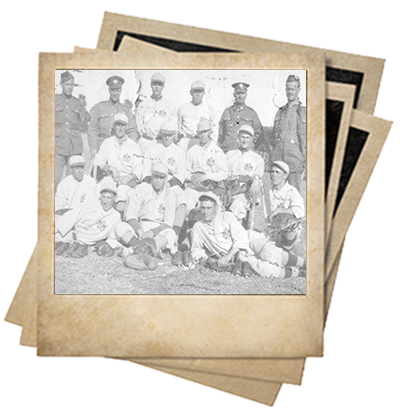 "What I'm about to give is a resume of his (Kylie Kyle) military service during the War of 1914-18. Norval Kyle enlisted in 61st Winnipeg University Battalion late in February 1916. This battalion was, to a great extent, made up of university students and young men in clerical jobs. Many young bank clerks and from the grain exchange. It was formed in June 1915 and spent the summer in training at Camp Hughes. A few hundred went overseas by way of draft to other units in the late fall and early winter of 1915. To be brought up to battalion strength in the late winter months it required about two hundred more boys in late February. Norval Kyle, commonly known as Kylie, was the name he carried throughout his military career.
In late March we had our moving orders to proceed overseas. About one hundred of the unit were allowed to proceed ahead of the battalion to visit our people at homes in Ontario. Kylie and I, Orme Sharpe, known as Sharpie, were among those who came to Ontario. We gave our addresses to the officers in charge. They contacted us within a week to proceed on a regular train to Halifax.
On reaching Montreal we found we were well ahead of the troop train carrying our unit. We were allowed two days in Montreal. We booked in at a good hotel then proceeded onto Halifax and a few hours visit in Moncton. Then on our way again, arriving in Halifax two days before our unit. Another joyous time before we presented ourselves without the loss of a man.
Our ship, the Olympia, was the largest afloat at the time. To give you some idea of size about 11,000 troops were sent abroad. Yes, it was crowded to the limit. About eight bands aboard, so lots of good music but little sleep. Being a fast ship, no escort. They reached Liverpool in five days sailing time.
The various units were scattered about England. Our first stop was Borden Camp, well-established, brick buildings, slept on floor. After ten days we proceeded to Shorncliffe Camp near Folkstone and Hyde area. Started vigorous training.
By June 1916 we received orders to proceed to France and Belgium. Supposed to be trained soldiers, quite a number including Kylie, only had a few months to convert from students and office clerks to soldiers. We did not go as a 61st unit to France. We were broken up. About 300 going to the 16th Canadian Scottish and most of balance to 44th Battalion which formed the 1st Battalion, the 10th Brigade of newly formed 4th Division. We proceeded by way of boxcars or cattle cars, jammed in like sardines. Much discomfort.
Our first assignment was Ypres Salient – our location known as (Dickiebusch). I had the opportunity to visit the location in 1974 when, along with about 25 others, we visited most of the fronts where Canadian soldiers of 1914-18 saw action. Visited many cemeteries, which I might say, were well maintained and a credit to a Board set up to look after them. They received great assistance from Belgium and French people, largely by school children who visit them regularly and place flowers.
Our stay in Ypres was relatively short, about three months, which was a great experience and we matured from boys to men.
In late August we were on the move to the Somme area. Reached there in early September. We encountered the toughest fighting of war. To me it was worse than Vimy where we were later.
For three months we faced a great hardship due to rain, mud and very heavy fighting. We had a hand in capturing (Porto Port Valet) – then Death Valley, well named, which was named by Canadians. The Germans controlled high ground well up the valley. They apparently had some good spys as we never seemed to cross the valley without some losses. We tried various hours of day and night. It did not seem to work. We crossed it hundreds of times. Our objective was to capture what was known as Regina Trench some few miles of level country of mud and almost continuous rain.
About that time Kylie became what is known in military circles as the battalion runner. His duties were to carry messages from battalion headquarters to company commanders on duty in the line. This means of communication was used for secret messages and many times when the communications were disrupted, such as a wire line on top of ground from headquarters to front line officers. This line was many times cut by shellfire and conditions were such that repairmen could not get to them.
As a runner, Kylie was tremendous. To my knowledge he never failed to deliver the message. He could roam the various trenches by day or night. He was like a cat in the dark. He was fearless, at least he never showed it. He did not know the meaning of the word fear. His objective was to deliver the message. To me he could be called one of the most courageous soldiers who wore the King's uniform.
In delivering the message as quickly as possible, if he saw a comrade wounded or in trouble he always found time for a word of cheer and found help for him if needed. The unit continued to hold the enemy back, at all times under heavy fire. At one time in early November, while out for two days, about a hundred of us were asked to proceed to help another unit of our brigade. We were told to travel light. No shaving kit or extras as it would only be for 24 to 48 hours. It lasted 17 days! You can picture what we looked like when we got back for a rest and clean up period. We did not have a shave or have our boots off for that 17-day period. We were never dry, slept in standing or cramped positions when we could.
We did capture Regina Trench in late November but at a terrific cost of men. We left the Somme after this great victory. We were told we started in Somme with about 1,017 Battalion strength. We came out with about 192. Kylie and I formed part of that number. After a brief rest we were on the march again. We were equipped with renewed uniform and footwear. We were headed for Vimy Ridge area. We had a much-needed rest and received reinforcements to bring us up to battalion strength.
On Christmas Eve we went into the front line on Vimy. On our arrival both us and Germans started singing Christmas carols. Most of us were sitting outside the trenches until some fool German started firing at us. This started a real barrage of fire from both sides. Several casualties resulted.
We spent much time in next two weeks in getting familiar with the trenches and no-man's land position. Kylie roamed the trenches and no-man's land where he knew almost every foot of ground. Then we started a series of raids on German lines.
Some from 100 to 200 yard frontage to gain knowledge of lines and type of men we faced. I, being a machine gunner, seldom missed a raid. In some form we usually covered the flanks of the raiding party by going across no-man's land ahead of raiding party and the barrage that covered the frontage. We were located just outside of German barbed wire until barrage lifted then we moved inside and gave crossfire protection to keep enemy down until raiding party moved in.
Our difficult time was getting back to our lines after the raid finished. We were usually confronted with heavy shellfire at that time. My captain said I took part in 13 raids in all. Usually on my return, Kylie was there to get first hand report and see how Sharpie fared; a real pal.
After gaining a lot of knowledge as to the terrain and force ahead of us, this was put to good use. A series of intensive training was given the attacking force by using tapes showing objectives we were to take. Kylie was used to help supply this knowledge.
Then came the D Day, April 9, 1917, to capture Vimy Ridge. It is recorded that the French lost 70,000 men and British about 80,000, trying to drive the enemy from the high ground of Vimy. A Canadian force, under our own General Currie, accomplished to take Vimy Ridge on April 9th and 10th. Many counter attacks failed to drive us from our captured position.
The Town of Givenchy proved a difficult town to capture. About half of it was protected from our artillery as it was too close to the ridge and our shellfire to reach it. Kylie, along with our scouts, provided valuable information re this time. This was our first so-called house-to-house fighting. We finally skirted it by advancing on both sides forcing them to retire.
Many prisoners were taken. I was shot through the arm on April 10th. Did not leave France. Returned to action in early May to be part of a vicious attack when Germans used liquid fire. We lost some real good experienced officers and many men in this attack. We drove them back and held our ground. Kylie played an important part as he had acquainted himself with the terrain.
On one occasion, I along with about 20 others was cut off from the unit. The Germans tunneled under the railway embankment on the outskirts of Lens. Kylie heard of this. Although he was supposed to be off duty, he knew Sharpie was among those cut off. He went to the medical corps where extra rations were available. Filed the bag with bread, bully beef, jam and some cheese. Burdened with this, he made his way to our cut off route, left the rations and gave us a lead as to where we might break through as a group. This we did the following night.
What a guy that Kylie was. He deserved the Victory Cross but got a Military Medal.
Shortly after that I was quite badly wounded in left arm, shoulder and back and hospitalized for ten months. For the next few months I cannot give details. But from the report which reached me through friends, Kylie continued to complete assignments in his usual capable, efficient manner.
In late October the unit was assigned to the Passchenaele Front – a very active front under difficult weather conditions. Rain and mud was a real challenge.
Kylie was severely wounded with a bullet through the neck, just missing the jugular vein. He was carried out of line by stretcher-bearers and lay outside the casualty clearing station all night in a late, cold, November night. He was looked over and considered near his end of life and left so that others could be looked after.
Early next morning it was discovered he was still alive, so got attention. He lost so much blood his clothing was frozen to the stretcher in his own blood. He was sent by hospital ship to England. He remained unconscious for three weeks in a very serious condition.
As I was still hospitalized from my wounds I could do nothing to help him. My sister, Irene, who was a nurse, had just returned from Malta, where she had served a year. She, along with a pal of hers, who stayed together from the time they started nursing training. They were known as Sharpie and Stewartie.
At my request they went to War Office to find location of Kylie. Then they proceeded to visit him. On arrival there at the hospital they were told they could not see him as after three weeks he was still unconscious. Irene insisted. She told the superintendent that she had known him well and he was a close friend of her brother who was in hospital in England with war wounds and she was a nurse.
She and Stewartie were allowed to his bedside for ten minutes. She held his hand and kept saying, Kylie it's Irene, it's Irene, speak to me Kylie. I've come a long way to see you.
Finally he made a move and spoke his first words since being wounded. He smiled and said how did you get here? She replied by saying that he was now in hospital in England. When you get well you must come and see me. I will keep you posted as to my address. The hospital authorities were delighted that Irene and Stewartie were responsible for bringing him back.
Kylie showed the same courage and determination on a baseball diamond as on active duty in Belgium and France. He served on the battalion's baseball team before going overseas and again on the #1 C.C.D.team at Shorncliffe after his recovery from bad wounds. On returning from active service he again assumed his position in the bank.
Out of 14 pals, all like brothers, this included the 6 guys of the (Noblic) group, a group which had a camp on the Red River, only three returned! Eleven were killed. To my knowledge, none were placed in known graves. His ability as a battalion runner and a conveyor of important assignments, he always completed the mission.
After our return to bank duty we were again confronted with an important responsibility. The great Winnipeg Strike of 1919. We were forced to close our office at noon on three occasions due to danger of strike. One of our large plate glass windows was broken one afternoon. One of our large brokerage firms came to the office during this strike and handed to us $600,000.00 of negotiable securities which were to be delivered to a Toronto firm on a given date. If not delivered the sale would be lost and our branch would be responsible for loss of sale and must pay interest for late delivery.
As this was a general strike, no mail, no telegraph was available. The manager was in a great stew as to what to do to make delivery. I approached the manager with a suggestion that if he would place them in Kylie's hands and send him to Kenora, Ontario, who were not on strike, they could be registered and be on the way to reach Toronto in time. He gave this some thought and was willing to do this but wanted two men to go. I said no, Kylie would complete the mission better alone. From experience I knew this to be true. He finally consented and Kylie was on his way fortified with a revolver. Mission again completed.
A great soldier, great guy, a great pal!"
by Orme Sharpe